In the invisible city of IT systems, ideal connection is provided by networks. Therefore it is essential for all well-functioning companies to have a reliable and efficient network background system in place, that functions in an almost invisible manner, as an undetectable supporter of business processes. We implement the connection of IT devices by thorough design work and the selection of the most optimum devices, in both physical and virtual networks.
Our services encompassing most areas of information technology, just as our products offered, all provide solutions at high standards of technology also as to the establishment of well-functioning network systems. Our aim is to comply with our customers' requirements to the fullest extent possible. For the integration of LAN, WAN and WLAN networks professional devices are provided.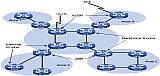 Regarding our solutions, an essential role is played by the expert fields of VLAN, MPLS, OSPF routing, software based routing and VPN related areas. These areas already require field-specific, top level network knowledge. By expert settings we are able to efficiently monitor the availability and capacity of communications systems not only within local networks, but also between sites and in the direction of the Internet, thus providing assistance to smooth and successful work performed.
NETWORK DEVICES FOR ENTERPRISE GRADE SOLUTION
| | | |
| --- | --- | --- |
| Checkpoint Firewall and VPN systems, complete security network integration | Mikrotik RouterOS system, unbounded solutions, Firewall and network segmentation | Switching technologies ensure the highest level of manageability and control |
| Cisco Tűzfal/VPN/Routing/Switching/WiFi teljeskörű megoldások | Routerboard | Ubiquiti |