The task of information security is to provide for the availability of the elements of IT systems, and to maintain the confidential nature and intactness of data managed by way of those. Risk equivalent security may be guaranteed by the unit of planned protection systems constructed on the basis of the plans. For the efficient operation of protection systems it is essential for corporate management to by dedicated to the introduction and company-wide acceptance of the security rules.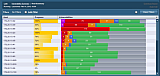 Regulations and restrictions should have an essential role also in properly designed and established systems. Therefore the implementation of data security does not only mean the purchase of devices and the establishment of rules, but also a change of the way of thinking on behalf of the company's employees in the right direction.
"All devices are replaceable, but data lost are not in many cases. There is one thing that is more inconvenient than the loss of data: when our data are made public despite our intent."

The implementation of an appropriate level of information security we offer our
IT supervision
and
IT operation
services we recommend.
SYSTEM AND DATA SECURITY SOLUTIONS OFFERED
Protection of networks from the Internet - firewall systems.
System of security rules regarding communications devices - firewall related rules.
Systems of security rules regarding service systems - rules pertaining to servers and users.
Segmented networks - VLAN solutions, port security.
Security restrictions.
Application control, web filtering - limitation and disabling of Facebook, Youtube, Skype.
Reduction of the possibility of data leakage - content filtering.
Secure implementation of connecting external users - VPN/SSL systems.
Virus control and SPAM filter systems, personal firewalls.
IT audit.
DEVICES FOR COMPROMISE-FREE SOLUTIONS
| | | |
| --- | --- | --- |
| Mikrotik RouterOS system, unbounded solutions, Firewall and network segmentation | Fortinet NG firewall system | ESET Security solutions |
| Checkpoint Firewall and VPN systems, complete security network integration | Veeam Backup and Replication | Cisco Firewall/VPN Enterprise grade security solutions |